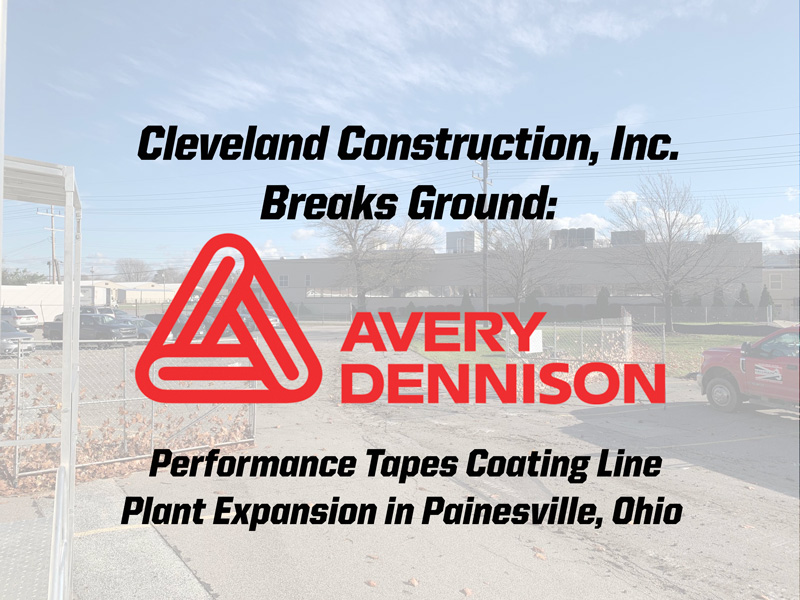 Cleveland Construction, Inc. broke ground on an expansion to Avery Dennison's Building #5 Performance Tape Coating Line facility in Painesville, Ohio, on December 2, 2021.
The single-story, 35,000 square-foot expansion project will further enhance Avery Dennison Performance Tapes' ability to develop and deliver high-quality pressure-sensitive adhesives solutions for both standard and novel customer applications. The expanded facility will be constructed of structural steel, masonry walls, and insulated metal panels with wall heights maxing out 47'. The expansion will be built with future expansions in mind with a new electrical service.
The expanded facility will produce complex, multiple-layer pressure-sensitive specialty tapes used primarily in the automotive, general industrial, packaging, and building and construction industries.
The expansion's design and construction reflect Avery Dennison's commitment to sustainability and its role as a good corporate neighbor. "The building will be equipped with new energy-efficient pressure-sensitive tape manufacturing equipment,'' Flannery said. "It will enable us to efficiently produce tapes used in everything from microchip manufacturing to the assembly of electric vehicles. The new hires will fill production and skilled labor roles. Our expanded workforce will add to the community's economic growth and its standing as a preferred Northern Ohio manufacturing location."
"Cleveland Construction is excited to develop a relationship with Avery Dennison, another national company based locally in Lake County, and we look forward to becoming their go to Construction Manager for their projects all over the country." Cleveland Construction's Vice President of Construction Elliot Christiansen said. "We know that our focus on Quality, Safety, and Schedule will produce the facility Avery requires to expand their operations successfully."
Cleveland Construction, Inc. is serving as the general contractor, and the architect is R.E. Warner and Associates.
Click to view updated construction information on the expansion of Avery Dennison's Building #5 Performance Tape Coating Line facility.