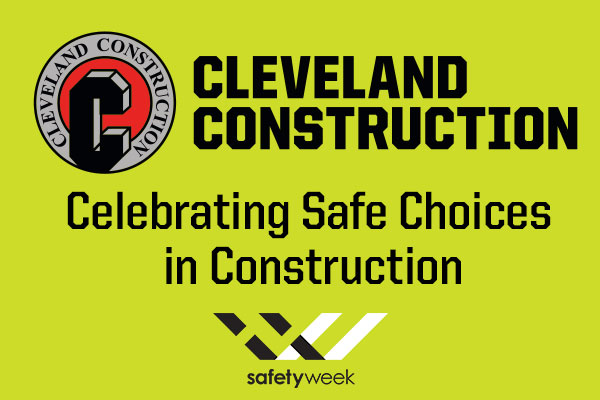 This week, Cleveland Construction, Inc. is joining with other construction industry stakeholders in participating and promoting two events focused on improving construction safety: Safety Week 2019 and Occupational Safety and Health Administration's (OSHA) National Safety Stand-Down. Both industry-wide initiatives aim to raise awareness of safety in construction to eliminating worker injury.
During the week of May 6-10, 2019, our company's active construction project sites around the country will participate in promoting Safety Week 2019 and its theme of "Safe by Choice." Each project site will hold a variety of activities to celebrate safety week that may include; mass safety stand-downs with company executives, safety demonstrations, toolbox talks, giveaways, project tours with leadership and, appreciation lunches.
We have thanked all of our workers from craft professionals, apprentices, journeymen, foreman, superintendents, and project managers that choose to work safety through simple acts such as wearing the required personal protective equipment - hard hat, safety glasses, safety vest, and gloves.
Along with participating in Safety Week 2019, Cleveland Construction is also joining OSHA in National Safety Stand-Down to focus on the importance of fall prevention. The OSHA National Safety Stand-Down was established to raise fall hazard awareness across the country to stop fall fatalities and injuries.
"We are continually training and educating our workforce on prevention of OSHA's Focus Four - Falls, Caught-In/Between, Struck-By, and Electrocution," said Cleveland Construction's Director Administration, Safety & Training, Mitch DaDante. "Any one incident is one too many. Life is too precious to not make safety the number one focus in the U.S. Construction Industry."
It is our culture to create a safe environment that will eliminate injuries to all workers on our projects and the public, and we believe that safety and quality can be accomplished without sacrificing productivity. We remind our employees that accident prevention starts and can only be achieved on our project sites, and it is the responsibility of all of our employees to make safe choices and contribute to our safety culture.
Safety is not just talked about one week per year at Cleveland Construction; it is a significant part of who we are every day from preconstruction to project completion.
Follow Cleveland Construction's social media channels this week (May 6-10) as we share our stories and insights in celebration of Construction Safety Week and National Safety Stand-Down.