Our employees continually receive specialized training to develop the strongest construction teams in the industry.
General Contracting Manager's Seminars
Cleveland Construction's Manager's Seminars are an annual two-day seminar for our project managers, estimators, and field superintendents. These seminars provide comprehensive training sessions to assist all levels of supervision in teaching new construction methods and reinforcing company processes. They also provide for an exchange of ideas among personnel with similar responsibilities.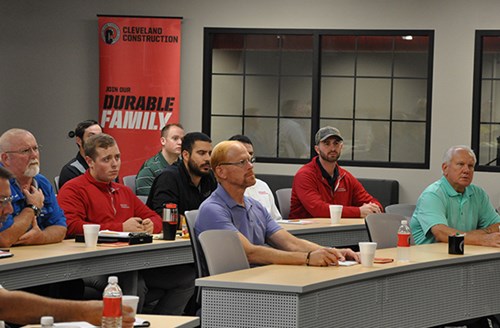 Interior Trades Seminars 
Each office that provides Interior Trades services holds an annual seminar to communicate new construction methods and enforce safety practices to its management staff. These seminars are also designed to educate our managers in the field and office on all aspects of the successful installation of interior trades, from scheduling activities to quality management.
Critical Path Method (CPM) Scheduling Training 
We develop and maintain precise critical path method (CPM) construction schedules using Microsoft Project or Primavera P6. Our project managers receive training on best practices for managing construction schedules to keep construction activities organized and on time. More accurate construction schedules mean everyone on the jobsite is well-informed, better organized, and more productive.
Safety Seminars & Conference Calls
We are committed to educating our employees on new safety policies and practices. Safety seminars are held annually at each office location to familiarize our employees with the company's current safety issues and new policies. Jobsite managers also participate in a monthly conference call to ensure our True Safety culture is communicated and understood.
EPA's Lead-Safe Renovation Certification
Our managers receive training and are certified by EPA-approved training providers on the EPA's Lead Renovation, Repair and Painting Rule (RRP Rule) to follow lead-safe work practices on renovation construction projects.
Job Training and Mentorship 
We want to help new our managers and craft workers succeed so we offer extensive on-the-job training and assistance through mentorship. A significant component of the training includes matching our new employee with a mentor. Our seasoned supervisors provide assistance and guidance during the new employee's transition into our culture and helps contribute to their growth and development.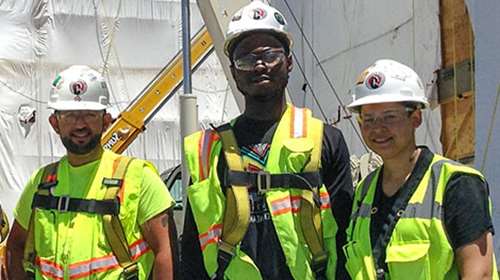 Apprentice Training
Our apprenticeship program is available for dedicated journeymen who express an interest in formal construction training. Cleveland Construction will assist employees in getting enrolled and pay the cost of classroom instruction, provide supervision/instruction in the field, and provide a safe and paid work environment to apply learned skills.
LEED Accreditation / Sustainability Training
We train and prepare our employees to become LEED Accredited Professionals. We encourage our managers to receive green building education so they have the key technical knowledge and experience to contribute to a project becoming LEED-Certified. 
Ready to Step Up to the job - and Stand Out in a career at Cleveland Construction?