Residences at Leader
Cleveland, Ohio
Industry > Multi-Family
Cleveland Construction performed as the construction manager for the historic restoration and adaptive reuse of the interior redevelopment of the historic Leader Building, a 16 story, 285,000 square-foot building located at the corner of Superior Avenue and E. 6th Street in downtown Cleveland.
Originally constructed in 1913 for the Cleveland Leader Newspaper, the building has been converted from offices to mixed-use that now houses retail and office space on floors 1 through 3 and 224 luxury residential units on floors 4 through 15.  The basement holds residential amenities such as a fitness center, a lounge, a business center, and a conference room.  
The scope of work included interior adaptive reuse and reorganization, relocation and build-out of 21 office tenant spaces, build-out of 224 one- and two-bedroom apartments, coordination of phased building occupancy, public safety management, repairs to the existing building and enclosures, and complete replacement of all HVAC, mechanical, electrical, plumbing, and fire suppression/alarm systems while preserving the building's original corridor.
Exterior work included pressure washing the limestone facade with soap and resealing all the windows. New awnings and banners were installed on the building, as well as a new roof.
Since the building was originally built in 1913, the restoration plan was designed to comply with the National Historic Register preservation requirements and maintain the building's original exterior façade and interior features.  Additionally, since the project received both State of Ohio and Federal tax credits, the redevelopment had to be built in accordance with standards set forth by the National Park Services and the State Historic Preservation Office.
The project is certified as Enterprise Green Communities by the USGBC. Low-flow water fixtures for water conservation were used in all apartments, while Energy Star appliances and 6,800 LED lighting fixtures were installed to reduce the buildings carbon footprint. In addition, low-to-zero VOC paint, sealants, and carpets were used to prevent off-gassing.
The restoration and adaptive reuse of The Leader Building began in October 2015 and was completed in July 2017.
Overview
Location

Cleveland, Ohio

Owner

K&D Group

Architect

Berardi + Partners, Inc.

Completion Date

July 2017
Industries
Services Provided
Preconstruction
Construction Management at-Risk
Historic Restoration Construction
Phased Occupancy Construction
Quality Management
Project Award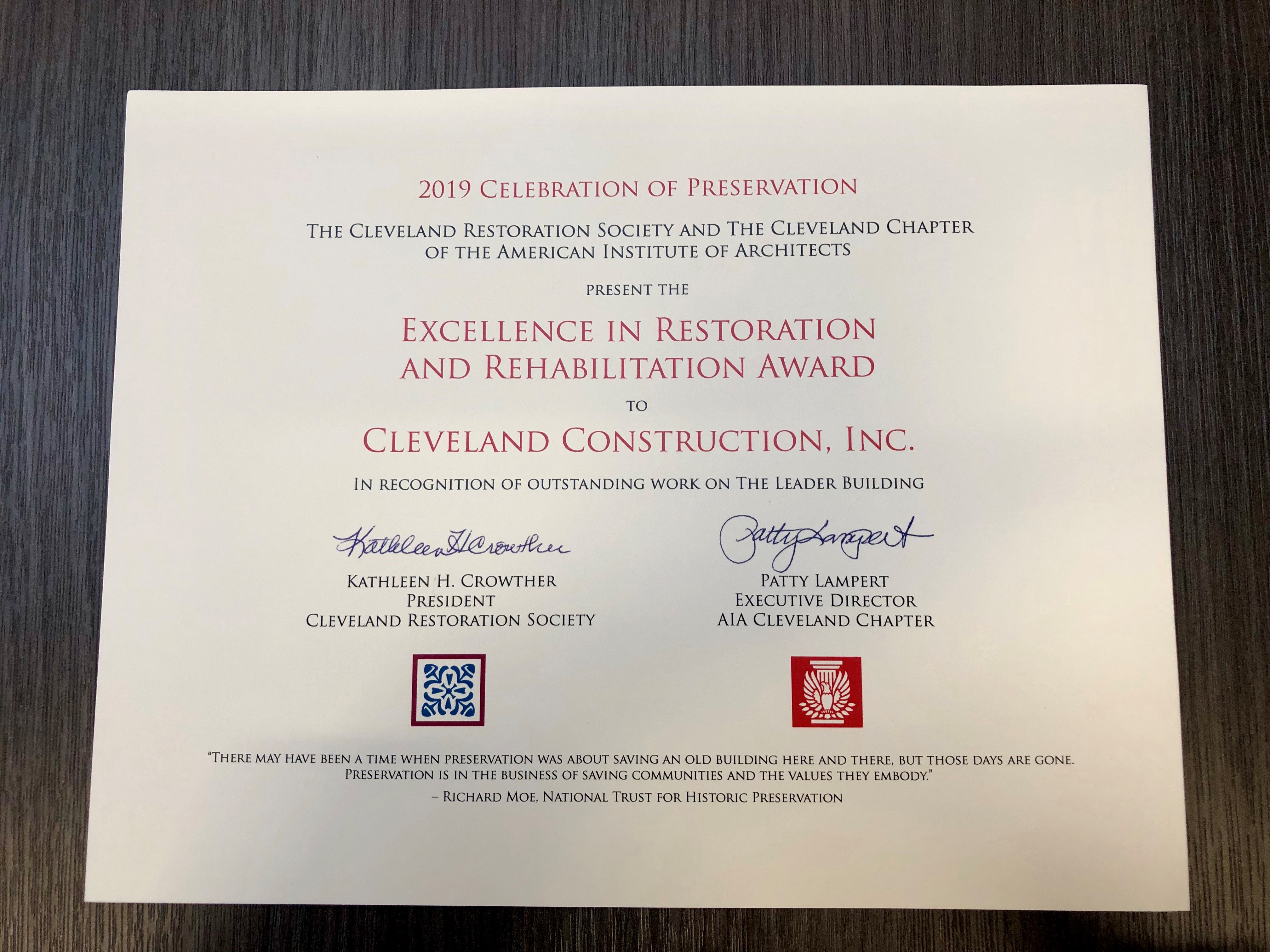 2019 Excellence In Restoration and Rehabilitation Award from the Cleveland Restoration Society and the Cleveland Chapter of the American Institute of Architects.
You have the vision... We make it true®
Our mission is to Make It True®. Whether that's making the visions of architects come true...building true relationships with subcontractors...staying true to our word with owners and developers...or making our company a truly great career path for employees... our Make It True® mission is what creates the unmistakable trust, loyalty, and teamwork that sets Cleveland Construction people apart.