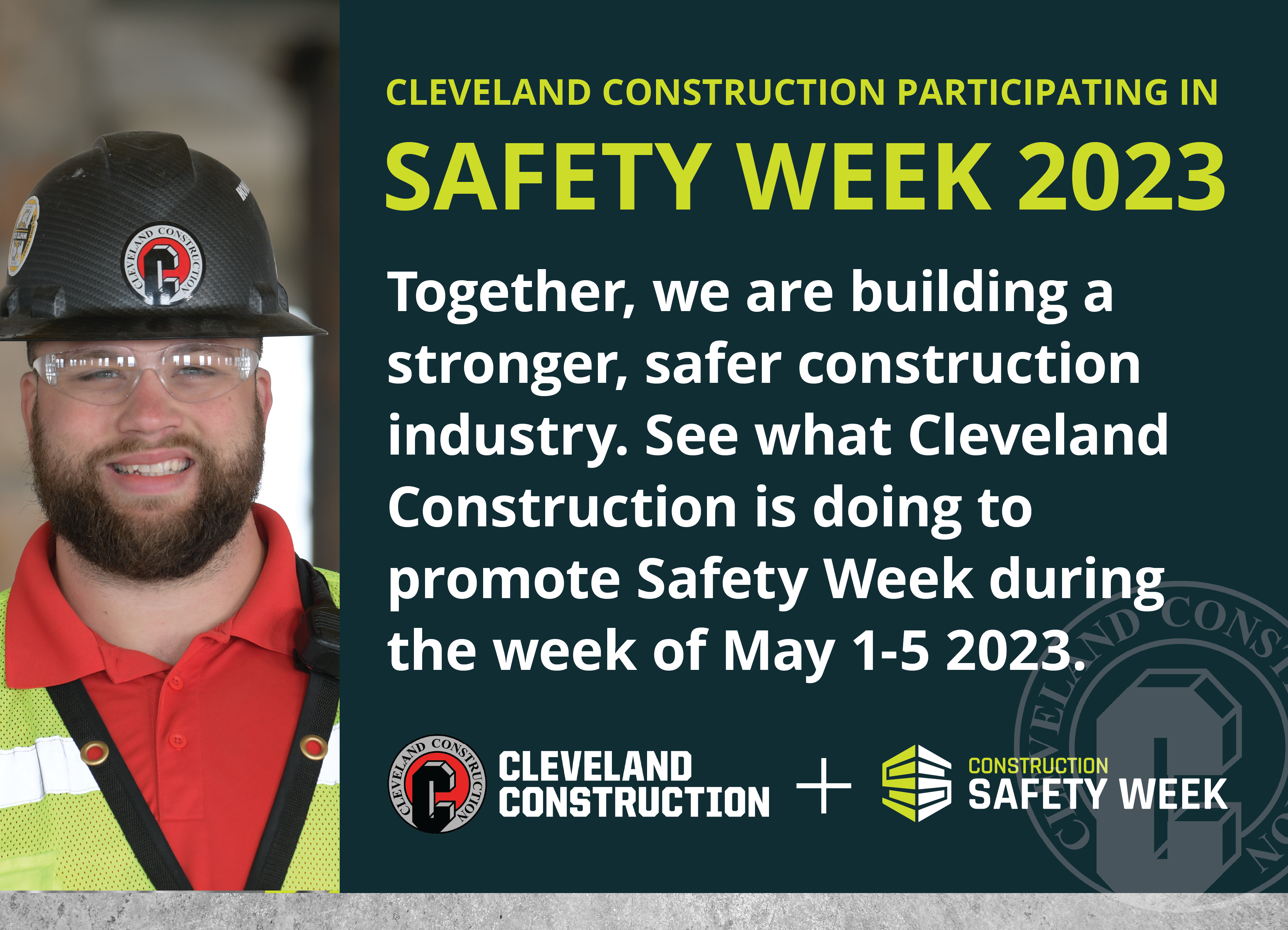 Cleveland Construction, Inc. is proud to again join the construction industry in promoting two essential events focused on improving construction safety - Safety Week 2023 and Occupational Safety and Health Administration's (OSHA) National Safety Stand-Down. These industry-wide initiatives aim to raise awareness of the importance of developing a positive safety attitude to bring our safest, most productive, and best selves to work every day.
From May 1-5, 2023, our company's active construction project sites across the country will participate in Safety Week 2023. We encourage everyone to bring a healthy safety attitude to work and contribute to the positive safety culture of the jobsite. Each project site will hold various activities during the week, such as mass safety stand-downs with company executives, safety demonstrations, toolbox talks, giveaways, project tours with leadership, and appreciation lunches.
Along with participating in Safety Week 2023, Cleveland Construction will also be joining OSHA in National Safety Stand-Down to focus on the importance of fall prevention. The OSHA National Safety Stand-Down is established to raise fall hazard awareness nationwide and prevent fall fatalities and injuries.
"During Safety Week, we recognize safety in a positive light and create a place where everyone feels comfortable talking about safety and bringing safety concerns to the forefront. By highlighting safety's importance and recognizing individuals who make safety a priority, we can create and continue the positive safety culture we want." - Mitch DaDante, Cleveland Construction's Director of Risk Management.
Our culture is to create a safe environment that eliminates injuries to all workers on our projects and the public. We firmly believe that safety is not just talked about one week per year at Cleveland Construction; it is a significant part of who we are every day, from preconstruction to project completion.
In this year's Safety Week, we aim to raise the bar and bring our commitment to safety to the next level. We invite everyone to follow Cleveland Construction's social media channels this week (May 1-5) as we share our stories and insights in celebration of Construction Safety Week and OSHA's National Safety Stand-Down.
Thank you to our valued corporate sponsors for their support in our efforts to recognize and reward our craft professionals during Safety Week. The following companies have partnered with us to advance construction safety:
Gold Sponsors: AXA XL RUCO (Southern Wall Products) Capitol Materials-Coastal Lockton Global Drywall Solutions USG Ceilings / Ceiling Plus
Silver Sponsors: Rockfon Sunbelt Dival Kamco Building Supply L&W Supply Foundation Building Materials (FBM)
Bronze Sponsor: Capital Building Supply