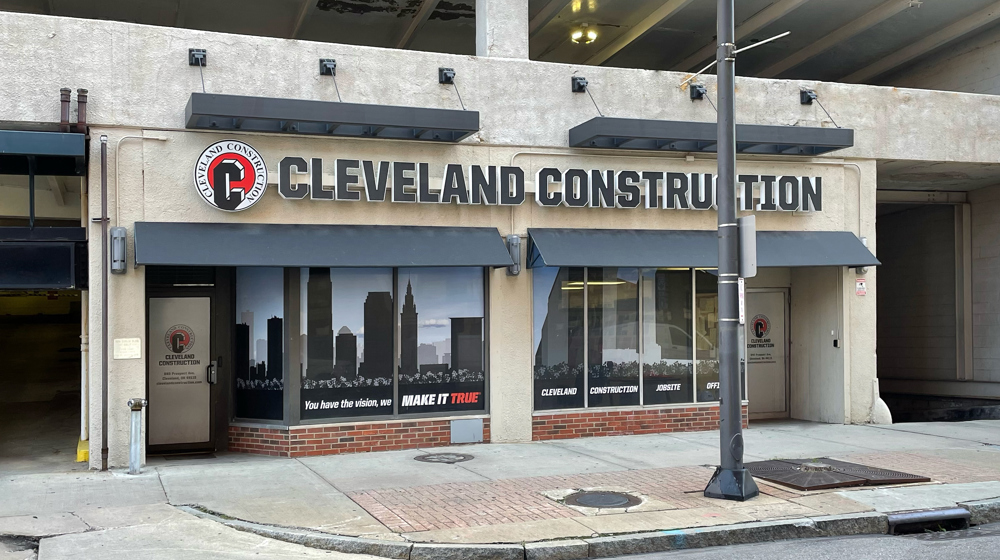 Cleveland Construction, Inc.
645 Prospect Ave.
Cleveland, Ohio 44115
tel: 440-538-6677
Cleveland, Ohio Construction Services
Strategically positioned in the heart of Downtown Cleveland, our office serves as a central hub for managing our active projects in the area. At Cleveland Construction, we pride ourselves on being the leaders in managing complex, multi-phased, tenant-occupied adaptive reuse and renovation projects in Cleveland. Our mission is to deliver on our promises, and in the last 15+ years, we have managed more renovation and adaptive reuse projects than any other contractor in the city.
Our historic rehabilitation construction portfolio of iconic projects includes the Terminal Tower Residences, 75 Public Square, Residences at 55 Public Square, Kimpton Schofield & Residences, Calfee Office Building, and the Residences at Halle. As the preferred contractor for private development work in the City of Cleveland, our team has developed an intense focus on project budget and timeliness, working closely with clients, design, and trade partners to identify solutions that mitigate budget, project risk, and supply chain uncertainty from the earliest project conception discussions.
In addition to our expertise in renovation and adaptive reuse projects, Cleveland Construction also has extensive experience managing new construction projects in Cleveland. Our team has successfully managed several high-profile new construction projects in the area, including City Club Apartments CBD Cleveland and The Ascent at Top of the Hill Mixed-Use Development in Cleveland Heights.
At Cleveland Construction, we believe in a collaborative construction approach, always striving to identify opportunities for innovation and value engineering to benefit our clients. With a deep understanding of the local market and our experience managing some of Cleveland's most challenging construction projects, we are committed to delivering exceptional results on time and within budget.
Our commercial construction services provided include:
Preconstruction
General Contracting
Construction Management
Design-Build Contracting
Cost Estimating
Safety & Health Management
Subcontractor Management
Quality Assurance/Quality Control Planning
Project Scheduling & Construction Sequencing
Project Accounting
Historic Renovations
Adaptive Reuse Renovations
Owners & Developers:
Click here to talk to our preconstruction team
Trade Contractors & Vendors:
Click here for access to our project plan room to view bidding opportunities in your area.
News from Cleveland Construction in Cleveland